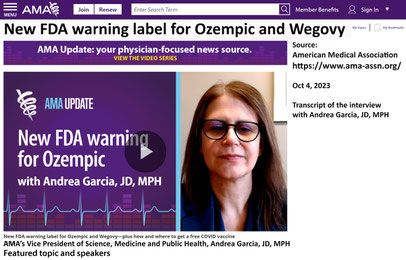 Unger:  Ozempic, the weight loss drug that's been gaining in popularity. Andrea, why is it making headlines now?
Garcia: Yeah, so Ozempic is approved for type 2 diabetes, but it's often used for weight loss. It's been gaining in popularity pretty quickly, and it's not just Ozempic. We know that those prescriptions for weight loss drugs have really soared. There was a report released last Wednesday that came from Trillium Health, which is a data analytics firm. And it showed that health care providers were more—wrote more than 9 million prescriptions for Ozempic and similar drugs in the final three months of 2022.
And that number is likely an undercount, because it's based on insurance claims, and many—we know many health plans don't cover these drugs. The reason it's making headlines is because the FDA added a new warning to the Ozempic label. FDA said the medication will now include a warning about potential intestinal blockage. That legal warning was also added to the weight loss drug Wegovy, which is made by the same manufacturer as Ozempic.
The label now reads, because these reactions are reported voluntarily from a population of uncertain size, it's not always possible to reliably estimate their frequency or establish a causal relationship to the drug exposure. We know that FDA encourages health professionals and patients to report adverse events on these or any medications to FDA's MedWatch adverse event reporting system.
Unger: That's a good thing for people to know as use, of course, increases. Have there been any other reports about potential side effects?
Garcia: So also this past week, we saw Reuters publish an article suggesting that Wegovy and these other weight loss drugs may be scrutinized over reports of suicidal thoughts. And according to that article, FDA has received about 265 reports of suicidal thoughts or behavior in patients who are taking these or similar medications since 2010. According to an examination Reuters did of the adverse event database, 36 of these reports describe a death by suicide or suspected suicide.
Unger: Wow, so what does the FDA typically do in a circumstance like this?
Garcia: Yeah, so FDA definitely monitors these reports to help decide whether or not further investigation of the drug's safety is warranted, and if needed, they take action to protect patients such as requiring a warning label. Accounts of suicidal thoughts linked to this class of drugs is definitely drawing some attention, including an investigation by European regulators that was announced in July. In a statement to Reuters, the FDA did say it's evaluating these reports, and they're going to decide on what, if any, course of action to take after doing a thorough review.
I think it's important to note, and one public health expert did note this in the article, that there are many beneficial drugs that have rare and sometimes dangerous side effects. And those have to be carefully assessed by regulators. There needs to be transparency around those side effects and they also need to be managed by physicians.
Unger: Well, we'll continue to watch that as more develops, Andrea. Thanks so much for joining us today, sharing these updates. That wraps up today's episode. If you enjoyed this discussion, you can support more programming like this by becoming an AMA member at ama-assn.org/join.
We'll be back soon with another AMA Update. In the meantime, you can find all our videos and podcasts at ama-assn.org/podcasts. Thanks for joining us today. Please take care.
---
Disclaimer: The viewpoints expressed in this video are those of the participants and/or do not necessarily reflect the views and policies of the AMA.