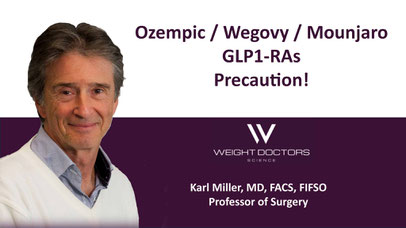 Studies have found increased risks of gastrointestinal adverse events (biliary disease, pancreatitis, bowel obstruction, and gastroparesis5) with Glucagon like Peptide 1 agonist (GLP-1) use in patients with diabetes. 1-4
This study found that use of GLP-1 agonists for weight loss compared with use of bupropion-naltrexone was associated with increased risk of pancreatitis, gastroparesis, and bowel obstruction but not biliary disease.
Use of GLP-1 agonists compared with bupropion-naltrexone was associated with increased risk of (HR=Hazard Ratio) 5:
Pancreatitis (adjusted HR, 9.09 [95% CI, 1.25-66.00]),
bowel obstruction (HR, 4.22 [95% CI, 1.02-17.40]),
and gastroparesis (HR, 3.67 [95% CI, 1.15-11.90)
but not biliary disease (HR, 1.50 [95% CI, 0.89-2.53]).
Given the wide use of these drugs, these adverse events, although rare, must be considered by patients who are contemplating using the drugs for weight loss because the risk-benefit calculus for this group might differ from that of those who use them for diabetes. Limitations include that although all GLP-1 agonist users had a record for obesity without diabetes, whether GLP-1 agonists were all used for weight loss is uncertain.
Literature:
1. Rubino DM, Greenway FL, Khalid U, et al; STEP 8 Investigators. Effect of
weekly subcutaneous semaglutide vs daily liraglutide on body weight in adults
with overweight or obesity without diabetes: the STEP 8 randomized clinical
trial. JAMA. 2022;327(2):138-150. doi:10.1001/jama.2021.23619
2. Singh S, Chang HY, Richards TM,Weiner JP, Clark JM, Segal JB. Glucagonlike
peptide 1–based therapies and risk of hospitalization for acute pancreatitis in
type 2 diabetes mellitus: a population-based matched case-control study. JAMA
Intern Med. 2013;173(7):534-539. doi:10.1001/jamainternmed.2013.2720
3. Gudin B, Ladhari C, Robin P, et al. Incretin-based drugs and intestinal
obstruction: a pharmacovigilance study. Therapie. 2020;75(6):641-647. doi:10.
1016/j.therap.2020.02.024
4. Kalas MA, Galura GM, McCallum RW. Medication-induced gastroparesis:
a case report. J Investig Med High Impact Case Rep. 2021;9:23247096211051919.
5. JAMA October 5, 2023. doi:10.1001/jama.2023.19574